Thank you for participating in the Passport to the Coast. 
Contest winners:
#1 Package: Greg Hatton,  Milton ON
#2 Package: Dave Rusak,  Binbrook ON
#3 Package: Elizabeth Grote, Caledonia ON
#4 Package: Don Merritt, Smithville ON
#5 Package: Jessica Martynse, Essex ON
#6 Package: Johnpaul Shoebottom, London ON
Friday 13 Bonus Prize: Mike Trembley, London ON
How to collect your prize?
Please call 519-426-5870 ext. 1304

Join the ride on July 6-16, 2018
This self guided ride in July is the first ride for Cruise the Coast. Take some time this summer to enjoy the Southwestern
part of Ontario, from Haldimand to Windsor ride along Lake Erie. The cost to take part in the ride is $10. All proceeds go to our local Big Brothers Big Sisters organizations.
The passport will be sold at these various locations from February to July:
Hewitt's Dairy Bar | Hagersville | 905-768-5266 | hewittsdairy.com/dairy-bar/
Erie Beach Hotel | Port Dover | 519-583-1391 | eriebeachhotel.com
Upper Thames Brewing Co. | Woodstock | 519-290-0053
Tourism Kiosk | Port Stanley | Corner of Bridge Street & Carlow Road (Open May – Sept.)
Duke's Harley Davidson Blenheim | 519-354-0650 | dukeshd.com
Tourism Windsor Essex Pelee Island Information Centre at 
Caesars Windsor |Windsor | 800-991.7777 ext. 22266 |visitwindsoressex.com
Tourism Sarnia-Lambton | Point Edward | 519-336-3232 | ontbluecoast.com
Hog Town Cycles | Lucan | 519-227-1331 | hogtowncycles.ca
Arlington Hotel | Paris | 226-227-1767 | arlingtonhotel.ca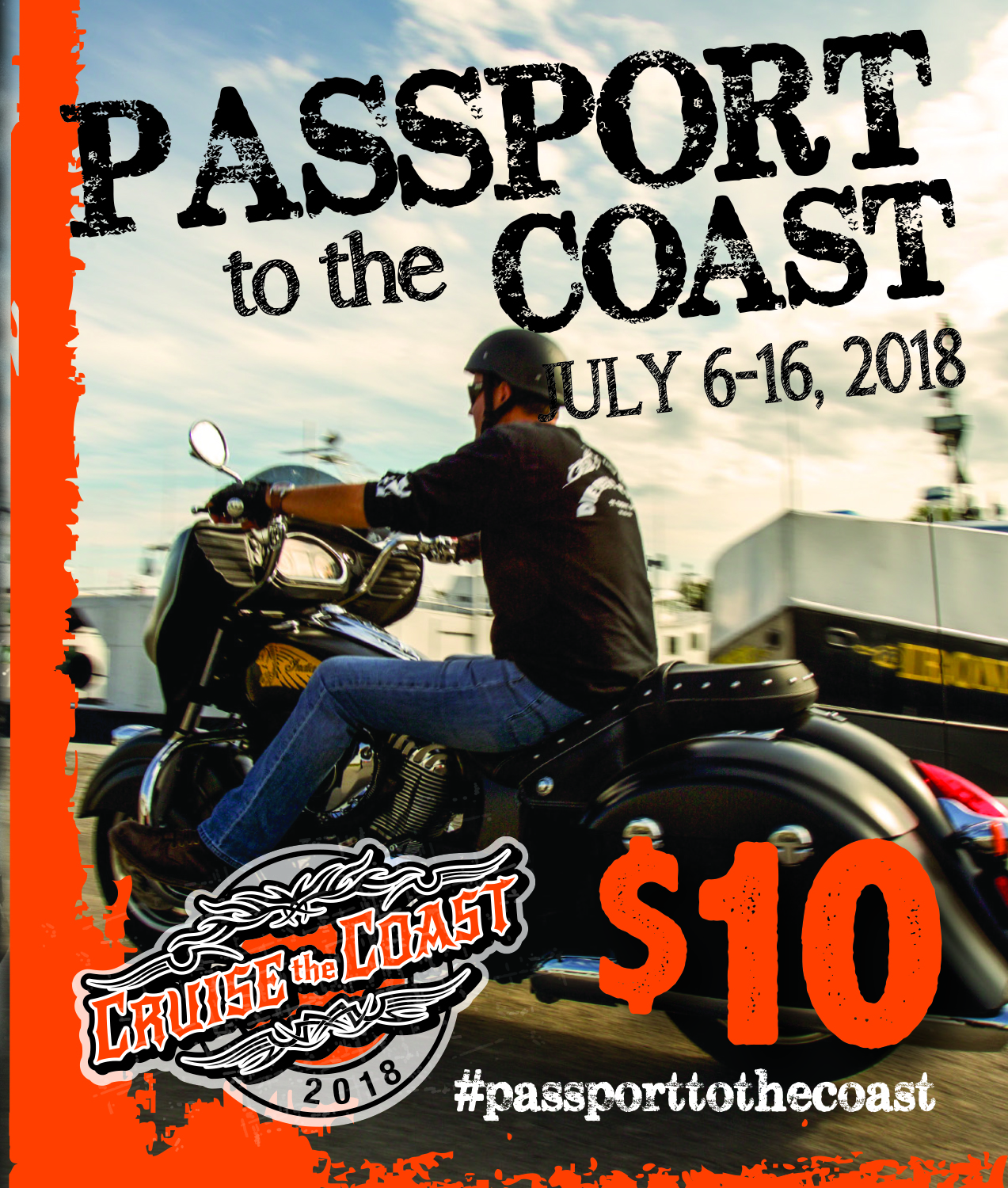 Contest Info:
Passport entry fee $10.
All proceeds go to Big Brothers Big Sisters.
To qualify for the draw collect all nine stamps at the designated stops.
Collect stamps between July 6 – 16, 2018. Stamp locations are on the passport. 9 plus stops.
1 Bonus stamp at Friday 13th.
Complete the contact form on the reverse side of this passport. Form must be completed in  order to qualify.
Hand in the completed form to any of the stamp locations by 4 pm on July 16, 2018.
Draw will take place at 4 pm on  July 20, 2018, Port Dover Beach  2 Walker St., Port Dover
Winners will be notified by July 23, 2018. All winners will be posted on the website.
A unique stamp can be obtained at each the following locations between July 6-16, 2018:
Country Chip Wagon | Dunnville | 905-701-0770 | countrychipwagon.ca
Blue Elephant Craft Brew House | Simcoe | 519-428-2886
Upper Thames Brewing Co. | Woodstock | 519-290-0053
Shaw's Ice Cream | Union | 519-631-2510 | shawsicecream.com
Duke's Harley Davidson | Blenheim | 519-354-0650 | dukeshd.com
Cooper's hawk Vineyards | Harrow | 519-738-4295 | coopershawkvineyards.com
Tourism Sarnia-Lampton | Point Edward | 519-336-3232 | ontbluecoast.com
Hog Town Cycles | Lucan | 519-227-1331 | hogtowncycles.ca
Arlington Hotel | Paris| 226-227-1767 | arlingtonhotel.ca
+ Friday 13 bonus stamp | only available July 13 at the Cruise the Coast booth in Port Dover